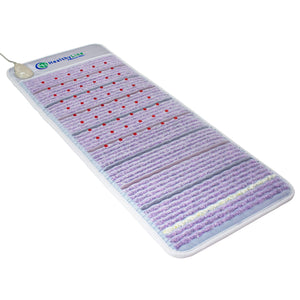 HealthyLine Platinum Mat features the most dynamic PEMF programming in heat therapy mats today. With over a billion custom PEMF configurations available, users are able to identify and save multiple PEMF settings to match their desired health and wellness needs. The Platinum Mat Full Short 6024 features all of this and more!
Custom PEMF Technology
Program your own PEMF settings including your desired waveform select between Square wave or Sine wave. Choose your own frequency ranging from 1-25 Hz. Set your intensity up to 3000mG with 5 intensity levels to choose from. There are also 3 selectable Pulse Duration options, medium, fast, or ultra-fast.
The Platinum Mat Full Short 6024 also comes with 10 preset 20-minute programs and 2 preset 1-hour programs. You can also customize additional 20-minute programs, selecting your own frequency, waveform, intensity, and pulse duration.
5 Total Wellness Therapies
In addition to the advanced PEMF technology, the Platinum Mat Full Short 6024 also features Hot Stone therapy, Far-Infrared therapy, Negative ion therapy, and Photon Light therapy. Each therapy builds upon each other to maximize total wellness benefits. 
Mat Use
The Platinum Mat Full Short 6024 measures at 60" x 24". It is the most compact heat therapy mat that features HealthyLine's custom PEMF technology plus additional total wellness therapies. The Platinum Mat Full Short 6024 is designed to be used on a flat surface, so you can use it on a bed, massage table, sofa, or floor.
The Platinum Mat Full Short 6024 covers either half of the body for the average person. You can use the mat while laying on your back and experience the mat from your shoulders down to your lower back region or you can lay your legs across the mat. 
Use the compact Platinum Mat Full Short 6024 to relax muscles, reduce pain, improve joint flexibility and circulation.